Professional Soffit, Fascia & Siding Service
Protect Your Home and Business From Water Damage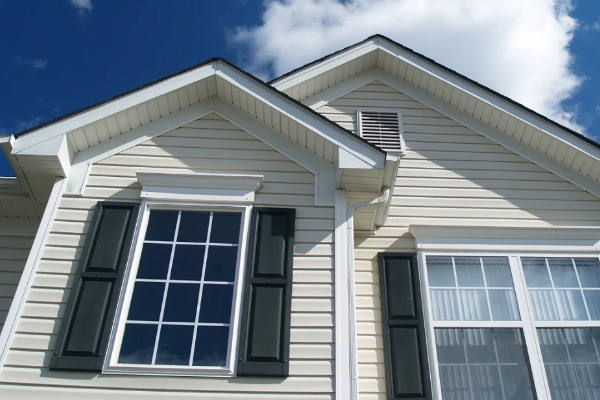 By correcting issues with your siding, soffit and fascia, you can keep your structure free from water damage for many years to come. Here's what you need to know:
Soffit is the material that forms a ceiling from the top of an exterior house wall to the outer edge of the roof. Soffit bridges the gap between exterior siding and the roof line. The soffit material is typically screwed or nailed to rafters. Soffit cover is available in aluminum and vinyl. Both materials are high-quality and can look beautiful for years to come.
Fascia board is the wood backing that a gutter is attached to. Fascia board is connected to rafter tails approximately 16″ to 24″ apart. To ensure a solid installation, our crews install gutter hangers/fasteners with 2″ screws to the fascia board, and into the rafter tail. Fascia boards are typically ¼″ to 1″ thick. Our highly skilled installers can do small wood fascia repairs to fix rotten and/or damaged fascia board.
Fascia wrap and trim are made of an aluminum material that covers and protects the wood from water damage. For a professional finish and extra protection for your structure, we can custom-bend around fascia, rake board and windows.
Quality Siding Materials
In addition to our gutter system expertise, Mile High Gutter can also install a variety of siding options on your home or business to increase curb appeal and value. Siding is available in your choice of steel, aluminum or vinyl.
Steel siding comes in 8" and double 4." Aluminum is available in double 4" and 5"; both are very durable and offer a neutral look.
Vinyl siding comes in double 4" and 5" with a lifetime warranty. It won't chip, dent or peel, and the color goes all the way through.
Contact Us Today!
Does your property's exterior need a facelift? New siding, soffit and fascia could be the solution. Call Mile High Gutter at (303) 762-9841 or fill out the online form to schedule an appointment for a FREE estimate.