Color Options for Your Gutters
So Many Choices!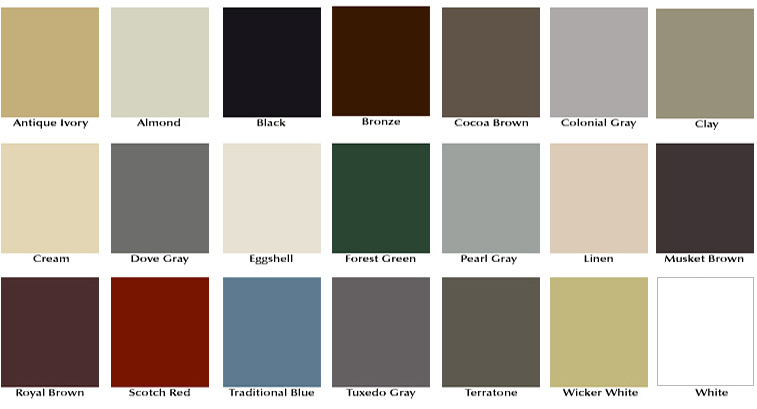 Choosing a gutter color can be tricky. Do you want your gutters to make a statement by standing out, or simply blend in? Whatever your preference, you typically do not want the gutters to become the sole focus of the home's exterior, so choosing a color that complements the exterior of your home is your best bet for a satisfying result.
Based on our many years of experience, Mile High Gutter suggests noting the color of trim that runs nearest the gutters and choosing a color similar, or complementary, to that. This will ensure a crisp, seamless result that makes your gutters appear to be part of your home. In addition to nearby trim, you may want to consider the following color components already in place: roof, brick, stone, siding or stucco color.
Standard color options for our aluminum gutters include:
Antique Ivory
Almond
Black
Bronze
Cocoa Brown
Colonial Gray
Clay
Cream
Dove Gray
Eggshell
Forest Green
Pearl Gray
Linen
Musket Brown
Royal Brown
Scotch Red
Traditional Blue
Tuxedo Gray
Terratonne
Wicker White
White
These are only some of the color options available. As for all colors in electronic media, true colors may vary. So please work with your salesman with real color samples to ensure proper color matching. Call Mile High Gutter for a color consultation to see even more!
Other Color Considerations
Here are a few more recommendations for choosing a color that's right for you:
If you'd like to give your roof a "framed" effect, choose a gutter color that contrasts with it.
For a more subtle effect, match the gutter color to your roof or your home's exterior.
Consider choosing the same gutter color as the color of your garage. This repetition will establish that hue as an exterior décor element.
Contact Mile High Gutter Today!
Call (303) 762-9841 or fill out the online form to schedule an appointment. We'll help you decide on the color that will achieve the look you want.