Denver Gutter Cleaning & Maintenance
Keep It Flowing With Our Services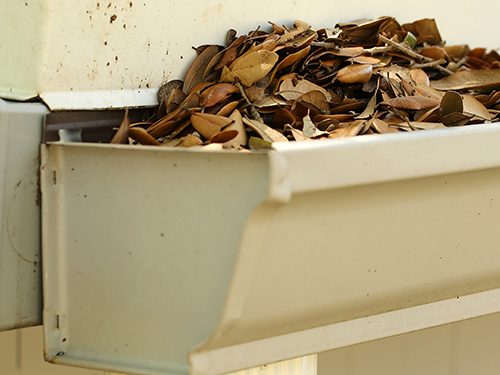 Your gutters prevent damage to your home or commercial building's exterior by keeping water flowing away from the building – but they can't do that if they're clogged. If you have debris piled up in your gutters, you need to take care of the problem before it gets worse. Most homes and businesses need gutter cleaning at least once or twice a year, but if you have many trees on your property, you may need gutter cleaning more often.
Don't do this job yourself. Instead, let the experts handle it so you can stay safe on the ground and get great results. Call Mile High Gutter for quality gutter cleaning services. We're proud to serve residential and commercial clients in communities all along the Front Range.
Choose the Service Level That's Right for You
Mile High Gutter offers three types of gutter cleaning services:
Basic blow-out. If your gutters only need a little care, this option is perfect. We'll blow any debris out of your gutters to make sure they aren't clogged.
Gutter flush. If you'd like your gutters to get more attention, choose this option. Not only will we clear debris out of your gutters by hand, we'll flush them and your downspouts to make sure they are thoroughly clean.
Deep clean. If you want to give your gutters the most extensive cleaning possible, we can get the job done. We'll clean your gutters by hand and take apart your downspouts to make sure that every section gets thoroughly cleaned.
With our gutter cleaning services, you won't have to worry about water backing up in your gutters and damaging your home or business. Prevent problems in the long run by calling Mile High Gutter.
Contact Us Today to Get Started!
Get in touch with Mile High Gutter. Call (303) 762-9841 or fill out the online form for a FREE quote on gutter cleaning for your home or business.