Helping Your Downspouts Do Their Job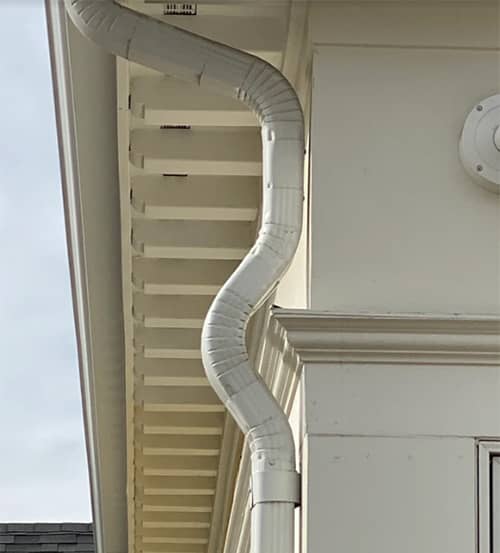 A Vital Part of Your Gutter System
The only thing worse than not having gutters is to have gutters that collect water off the roof, only to direct it to one spot at the foundation. The water gathered by a gutter system should be discharged from the downspout, and directed three to four feet away from the foundation (provided that is far enough to keep the water from flowing back to the foundation).
Residential downspouts come in 2" x 3", or 3" x 4" options. With proper maintenance and cleaning, downspouts will remain serviceable for many years. The larger (3" x 4") downspout drains approximately 1.5 times faster than the standard (2" x 3") downspout, which drains 7.2 gallons of water per second. This could be the difference between hassle-free upkeep and costly repairs in the future. Additionally, the larger downspouts are practically self-cleaning because they do not clog up or freeze as easily as standard options.
Why Get New Downspouts?
The most common reason for changing out downspouts is to upgrade the downspout size to reduce maintenance requirements and improve efficiency. Other reasons include:
Rusted-out components
Ice-split seams
Damage
Outlet location changes
System design changes
Color changes
Extensions
Downspout Maintenance
Gutter systems should be cleaned once or more a year, depending on conditions. Clogged gutters allow water to get behind the gutter, resulting in damage to the exterior of the structure. During the winter months, clogged gutters can lead to heavy ice dams that can rip the gutters right off the structure – especially on unpitched gutters. Don't wait for your gutter system to come crashing down – call Mile High Gutter for maintenance now!
Contact Mile High Gutter Today!
Call us at (303) 762-9841 or fill out the online form to schedule an appointment for downspout installation or maintenance.