Mile High Gutter Can Winterize Your Home or Business
Effective Snow & Ice Solutions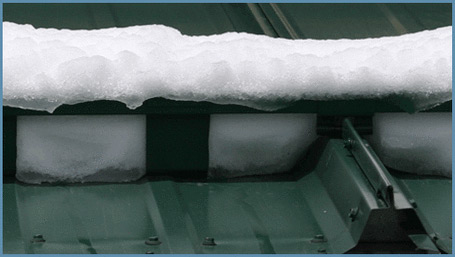 Colorado's winter weather can take a toll on your home. Mile High Gutter has proven solutions to combat the effects of snow and ice. Be proactive and have us install them before winter comes calling.
The Snobar® system prevents snow from sliding off metal roofs. It's an excellent solution for high-traffic areas because it protects people and vehicles from being harmed by heavy falling snow and ice. It also:
Prevents snow from accumulating at entrances, driveways and lower roof areas.
Protects gutters, stacks, skylights, equipment and expensive landscaping.
Has a non-corrosive, galvanized, clear-coated steel bar clamped at every seam.
Has an optional aluminum IceStopper that can be mounted perpendicular to a surface.
Snobar is backed by a limited lifetime warranty when installed according to the manufacturer's recommendations – which the skilled technicians at Mile High Gutter take care to do.
De-Icing Systems
Ice dams can form dangerous icicles and cause water seepage into buildings. Ice dams form as a result of melting snow and ice freezing on the roof when they reach the cold roof edge. The ice forms a barrier, and melted water accumulates behind this dam. Pooled water behind the dam is a serious issue because it may leak into the building, causing water damage, or it could run over the ice-filled gutter and form icicles.
The Mile High Gutter solution:
We use heat tape to de-ice your roof and gutter system.
We install Raychem systems' self-regulating heating cable, which provides a continuous path for melted ice and snow to safely drain from the roof through the gutter and downspout. 
Versatile, reliable, energy-saving and cost-effective, these systems are the most effective answer for roof and gutter de-icing applications.
Contact Us for Ice & Snow Solutions Today!
Tired of dealing with the effects of snow and ice on your roof? Call Mile High Gutter at (303) 762-9841 or fill out the online form to schedule an appointment.